Celebrating National Volunteer Week
Each year, Trauma Recovery, EMDR Humanitarian Assistance Programs (Trauma Recovery/HAP) joins the nationwide celebration of volunteers during National Volunteer Week, a time to recognize the valuable contributions volunteers make in their communities and with the organizations they serve. This year's celebration takes place the week of April 17-23, 2022.
It is only with the contributions of time and expertise from Trauma Recovery/HAP's volunteer network, that we are able to fulfill the organization's mission; to increase the capacity for effective treatment of psychological trauma in under-served communities anywhere in the world. During National Volunteer Week, Trauma Recovery/HAP looks to highlight the profound impact of our volunteers on individuals and communities suffering the effects of trauma.
In 2021, our 160 Volunteer Faculty members served more than 7,350 volunteer hours training over 1,850 non-profit or agency employees in Basic EMDR Therapy. These newly trained EMDR therapists will go on to serve countless individuals, mainly from under-served communities, in need of trauma healing. Our 66 Trauma Recovery Networks comprised of more than 1,500 volunteer EMDR therapists served communities in 30 states and 3 countries.
Volunteering through a pandemic
In the midst of a global pandemic, Trauma Recovery/HAP volunteers have continued to serve. Volunteers learned new platforms and technologies in order to deliver quality EMDR trainings in a virtual environment. They collaborated with us to produce a teletherapy EMDR best practices roadmap with video and expert guidance for fellow therapists.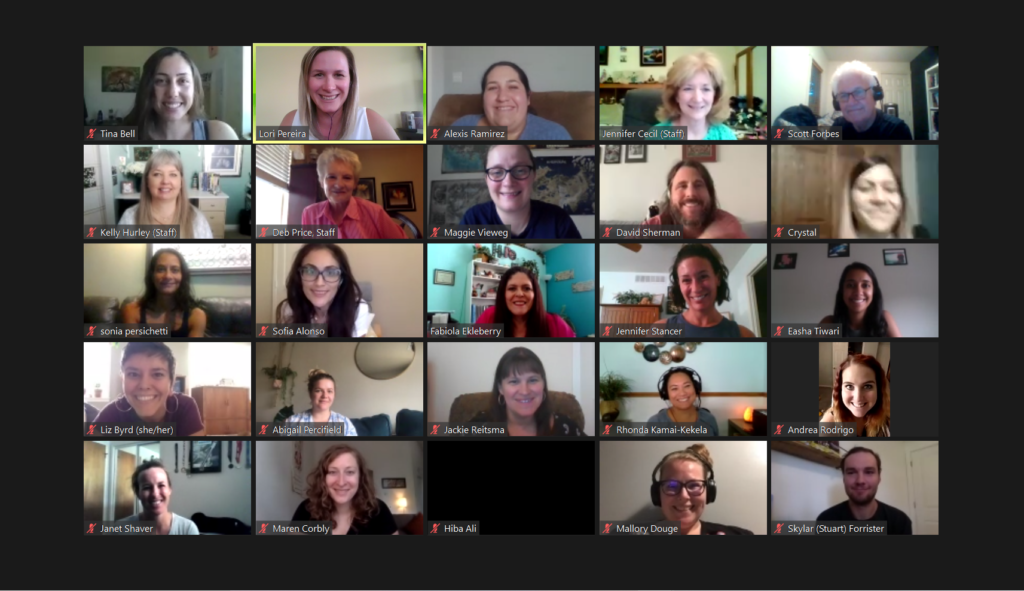 Trauma Recovery Network volunteers continued their hands-on service, incorporating trauma treatment for those affected by COVID19 into their mission focus, in addition to helping their communities recover from natural and man-made disasters.
Even during these difficult times, our volunteers are continuing to serve in various roles to support trauma healing through EMDR therapy. They have demonstrated their commitment to the mission of Trauma Recovery/HAP with their willingness to change, adapt and grow with us.
Over 27 years of service
If you are one of the hundreds who have volunteered with Trauma Recovery/HAP since the organization began more than 25 years ago, we want to extend our heartfelt thanks.
Since 1995, volunteers have been at the heart and center of this organization. After the 1995 Oklahoma City bombing, over 100 EMDR clinicians volunteered to help bring trauma healing to survivors, leading the way to establishing the nonprofit organization that is now Trauma Recovery/HAP. For more than 27 years, we have relied on our volunteers to bring trauma healing to people in need.
It is impossible to calculate the amount of teaching, caring and healing that these volunteers provide each year. Volunteers are an essential part of Trauma Recovery/HAP and help us to meet our mission.
Join the Celebration this National Volunteer Week, April 17-23
Whether you are a clinician, donor, friend or just learning about our organization there are many ways that you can make a difference as a Trauma Recovery/HAP volunteer! Learn about our volunteer opportunities here; https://www.emdrhap.org/content/volunteer/how-you-can-make-a-difference/
Share your volunteer experience! Are you an active Trauma Recovery/HAP volunteer? Tell us why you choose to volunteer with a photo and story on social media. Make sure you tag us, Facebook @TraumaRecoveryHap, Twitter @EMDRHAP, Instagram @emdrhap and use the hashtags #TraumaRecovery #EMDRHAP.