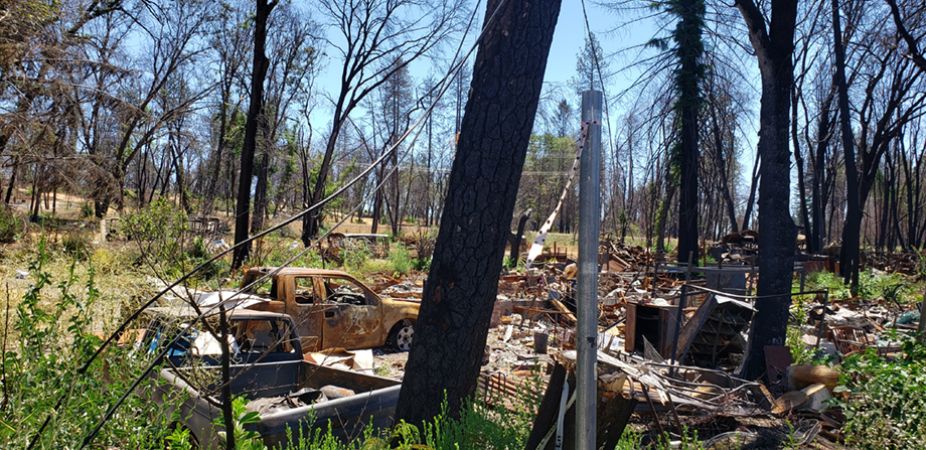 Norcal TRN® Brings Trauma Recovery To The Camp Fire Victims
TRN Mobilization Delivers Results
The NorCal TRN has begun to wind up its emergency response to treat Camp Fire victims.  The results of their heroic and selfless efforts are amazing.  The TRN served over 500 Camp Fire survivors.  They documented forty-eight percent of participants noting a reduction of symptoms after the sessions. Sixty-four percent noted a reduction of symptoms thirty days after the session, and more results are still coming in.  The volunteer team provided each survivor about five hours of free therapy.  Almost 600 survivors connected with a TRN therapist during their nearly yearlong effort, and the team fielded approximately 700 phone calls.
Healing and Building Capacity to Heal
TRN cofounders Merrill Powers, MSW, LCSW and Pennisue Hignell, Ph.D., were able to connect over 100 survivors to EMDR therapists within the first 30 days after the fire.  Fifty EMDR therapists from the TRN have been travelling, in some cases over 100 miles one-way, from Sacramento, Roseville, Auburn, Nevada City, Placerville and Redding, CA, to provide free EMDR therapy to Camp Fire survivors.
The TRN began connecting with survivors by passing out printed brochures and flyers in FEMA and Red Cross lines. They soon realized demand for treatment would surpass their capacity, so they organized two Part I and Part II EMDR trainings with Trauma Recovery/HAP to train 60 more therapist in the Chico area.  Next they scheduled two R-TEP/G-TEP trainings with Trauma Recovery to help therapist volunteers treat more victims.
Pennisue Hignell says, "It's very difficult to stop because of the need that's out there. We need to keep in mind, one, the ability of the therapists to keep on providing the services voluntarily, and secondarily, we need to be ready for another fire season."  Now, nine months after their initial treatment sessions, the needs have shifted toward more sustained therapy, Hignell notes.
Recent participants in G-TEP sessions express their healing experience
"I was depressed, anxious.  Had no hope for the future.  Had to move back to my home in Paradise and could not see a bright future there with all my neighbors gone.  After the first 2-hour group session I could see the future as bright, could see my home again with my garden and flowers…Before the thought of moving back to Paradise caused me pain.  Something switched inside and I found peace.  I could see a happy future in my home and garden.  I am ready to move forward."
Another group session participant reflects:
"When the process started I immediately felt so relaxed.  I had not felt relaxed since the fire.  In the morning, I looked at the fire stuff.  In the 2nd part, I looked at other things that were triggered and worked through them…  After the sessions, I felt such peace.  In church that evening, after the sessions, for the first time I felt normal.  Like I had felt before the fire…I am grateful, so, so grateful.  Thanks so much.  There were 6 of us in the group sessions and we all had positive results."
Recognizing Incredible TRN® Volunteers
In addition to the efforts of Pennisue Hignell and Merrill Powers, Trauma Recovery/HAP recognizes the outstanding efforts and many hours of service seeing clients, of the following therapists who met this crisis:
Anne Giel, Marianne Ault-Ritchie, Sik Lam Wong, Bernice Taylor, Edie Dornbush, Brendan Considine, DaLene Forrester, David Hammer, DeBora Miller, Kelly Schoon Pam Shore, Sharon Salz, Tonya Grubaugh, Stephanie Fowler, Susan Curry.
Trauma Recovery/HAP was please to attend a recognition event for all these dedicated and talented therapists on Sunday, Jul 21 at Ms. Hignell's home, where their efforts were celebrated.
In addition, Trauma Recovery thanks Ric Schoon, who found a data base program for the TRN and put it together, and Judy Thompson, the director of The Growing Place, who lent their offices for out of town therapists who came to the area to deliver pro bono treatment.