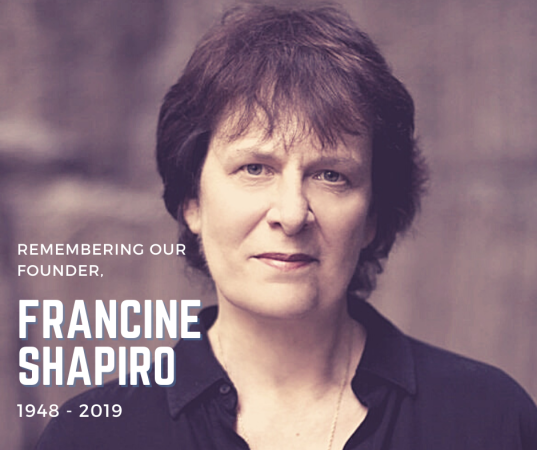 June Declared Founder's Month
Remembering Francine Shapiro
As June marks two years since Francine Shapiro's passing, we reflect on the many roles she embodied; teacher, mentor, author, visionary, philanthropist and a true inspiration for us all.
When Francine founded Trauma Recovery/HAP more than 25 years ago, she had a vision; a vision to bring hope and healing to those suffering the effects of emotional trauma through EMDR therapy. She also had great passion to help those suffering from trauma due to man-made and natural disasters.
Francine's passion for disaster preparedness and recovery has guided the work of Trauma Recovery/HAP, as seen by our response to disasters both in the United States and abroad, in over 25 different countries. To make this work possible, Francine was a regular donor to our organization, in addition to being extremely generous with her knowledge and expertise.
With her passing, Francine displayed her unwavering commitment to Trauma Recovery/HAP with a legacy gift. Her continued investment with this gift serves as a daily motivator to push forward with our mission. To commemorate her generosity and dedication to Trauma Recovery/HAP, we are declaring June as Founder's Month, a time to celebrate the legacy and work of our founder, Francine Shapiro.
During Founder's Month June 2021, we invite you to learn more about the history of Trauma Recovery/HAP and the Francine Shapiro Disaster Recovery Memorial Fund, named in Francine's honor and established to ensure our work in disaster preparedness and recovery can continue in the U.S. and throughout the world.
Sincerely,
Carol R. Martin
Executive Director
Trauma Recovery/HAP