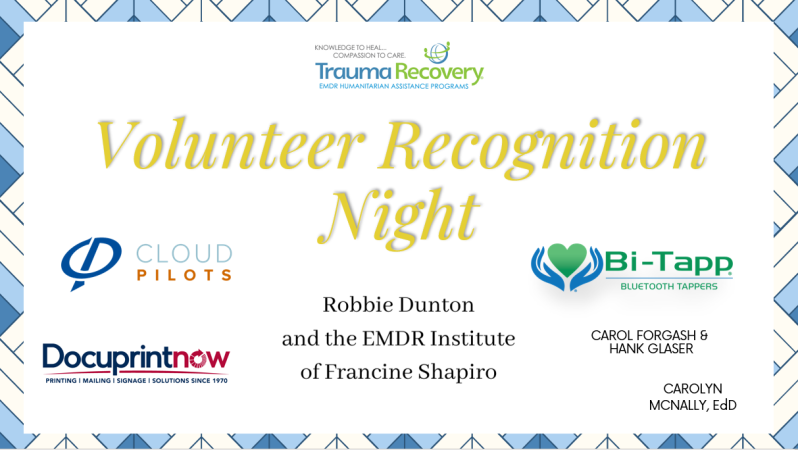 Volunteer Recognition Night – August 25, 2021
On Wednesday, August 25th, 2021 Trauma Recovery/HAP hosted a virtual Volunteer Recognition Night to celebrate and honor our incredible volunteer community.
We began the evening with guest presenter Natalie Keng, owner and founder of Chinese Southern Belle. Natalie gave a wonderfully engaging presentation about "Stir Fried America" which included discussion on diversity and inclusion, a brief cooking demo, and her personal experience growing up as an Asian American in the South.
Next we celebrated the many accomplishments of our organization since we last gathered as a community in September 2019, all made possible only with our dedicated volunteers. These accomplishments include:
131 EMDR Basic trainings
Over 2,000 new EMDR trained clinicians
Faculty academy growth: 4 new trainers, 25 new facilitators, 8 new trainer candidates and 11 new facilitators in training
Trauma Recovery Network growth: 4 new TRNs and more than 530 new TRN volunteers
International projects in Ukraine, Sri Lanka, India, and Ethiopia
The main portion of the evening was comprised of 9 volunteer awards to recognize individuals for their hard work, commitment to our mission, and passion for EMDR therapy.
2021 Award Recipients:
Elizabeth Snyker Award: Jim Knipe (1:49:00)
Trainer of the Year: 2021 – April Minjarez (1:43:35) | 2020 – Jill Strunk (1:36:35)
Facilitator of the Year: 2021 – Stephen Beck (1:30:33) | 2020 – Cherilyn Rowland-Petrie (1:23:50)
TRN of the Year: Linda Kocieniewski, New York City TRN (1:00:40) and Hector Matascastillo, Twin Cities Metro TRN (1:16:34)
International World Changer: Dorothy Ashman (00:48:22)
Board Volunteer of the Year: William Stadtlander (00:37:40)
Fast forward recording to the time listed in parenthesis to view specific award recipient introductions and acceptance speeches. 
Tribute pages are available here for all our award recipients, where you can leave comments, congratulations, and make donations in honor of any of the awardees.
We would like to thank the following sponsors for their generous support of our 2021 Volunteer Recognition Night.
Presenting Sponsor: Robbie Dunton and the EMDR Institute of Francine Shapiro
Entertainment Sponsor: Bi-Tapp
Awards Sponsors: Cloud Pilots and DocuPrintnow
Supporting Sponsors: Carol Forgash and Hank Glaser, and Carolyn McNally